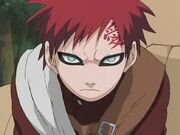 Main article:
Gaara
Gaara (我愛羅?) is the youngest of the three siblings. He was created by Kishimoto as a foil to Naruto Uzumaki, with a similar background yet a highly divergent personality.[9] Before Gaara was even born, his father intended to make him a military weapon for Sunagakure by sealing the One-Tailed Shukaku(一尾の守鶴Ichibi no Shukaku?), a powerful and dangerous tailed beast, inside him. Similar to Naruto, Gaara was tormented by his fellow villagers for being the host of a tailed beast. After one of his few remaining relatives tried to kill him, Gaara developed a sadistic and withdrawn personality, killing others to affirm the value of his existence.[95] His battle with Naruto during the invasion of Konoha changes this mentality; as a result, he becomes more willing to help others as the purpose for his existence, and he succeeds his deceased father as Sunagakure's Kazekage during Part II.[96] Gaara's seiyū in the Japanese anime is Akira Ishida, and his English voice actor isLiam O'Brien.[52][53]
Ad blocker interference detected!
Wikia is a free-to-use site that makes money from advertising. We have a modified experience for viewers using ad blockers

Wikia is not accessible if you've made further modifications. Remove the custom ad blocker rule(s) and the page will load as expected.